Pond Air Pump Kit Four Air Stones
For Medium Ponds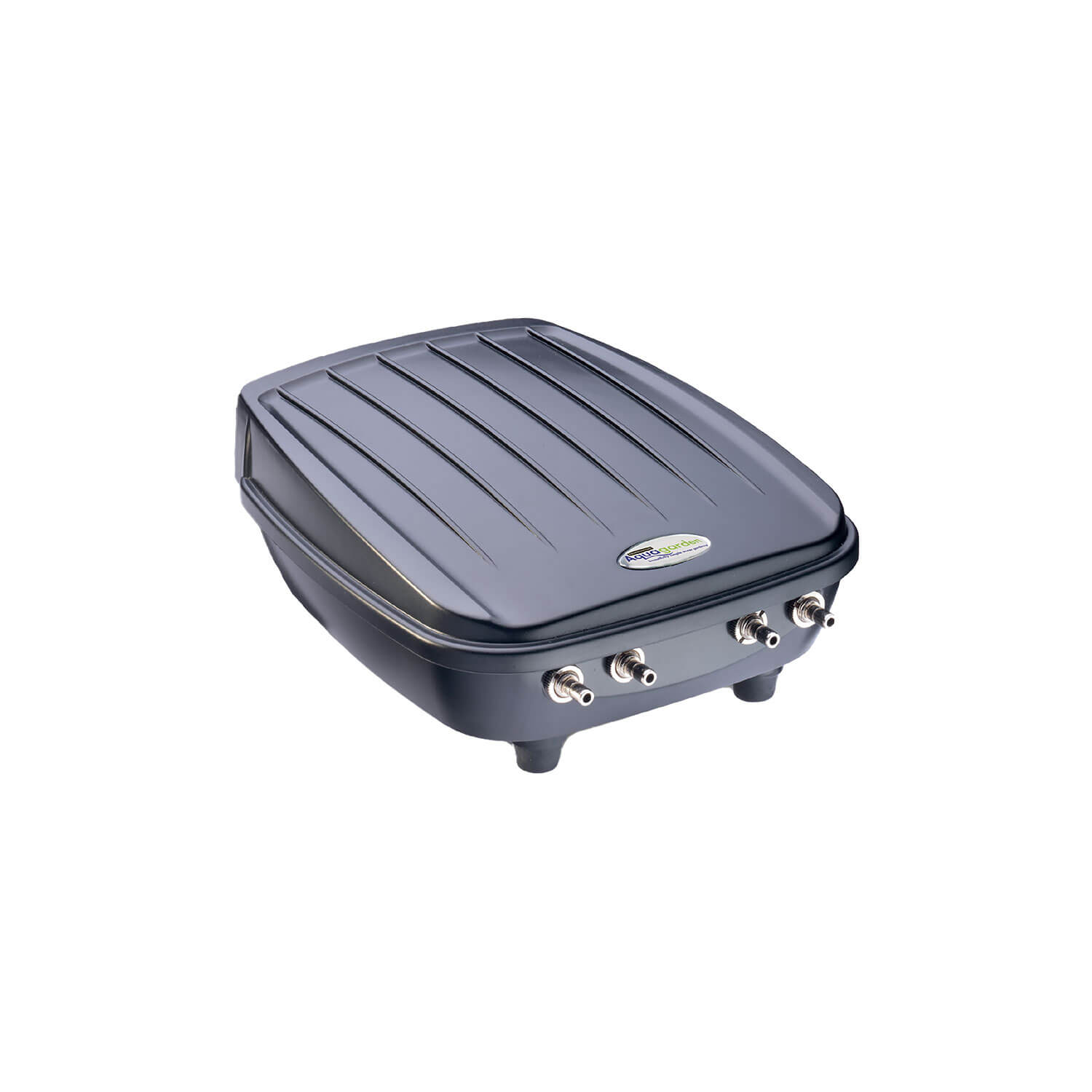 Four outlet, discrete outdoor weatherproof water garden air pump kit. - This air pumps have been specifically designed for water gardening applications, where sufficient aeration is an essential part of a successful pond. It is also ideal for hydroponics/aquaponics systems.
Increases oxygen for a healthy pond
Fish and other pond life require oxygen-rich water in order to remain healthy. Filter bacteria, essential to the breakdown of highly toxic ammonia and nitrite, also require oxygen to flourish and keep the pond free from the build up of toxic waste. Use of a Pennington® Air Pump will increase the level of oxygen in the pond and reduce levels of carbon dioxide, thus aiding in preventing the pond from stagnating, by injecting air into the water. Additionally, by placing the air stones directly into the filter chambers, beneficial filter bacteria will be encouraged to grow. This will improve the efficiency of a pond filter, as well as improve fish health. Aeration in a pond is especially important during spells of warm weather, when water holds much less oxygen, and at night when plants stop producing oxygen and begin to use it. Fish seen gulping at the surface or swimming lethargically may be showing signs of a lack of oxygen. In winter, use of an air pump will keep an area of the pond ice-free, preventing the build up of toxic gases which can be fatal to fish and other aquatic life. Oxygenation, provided by the use of an air pump, is essential when treating fish diseases, as suffering fish require higher levels of oxygen, and many treatments deplete oxygen levels in the water.
Outdoor weatherproof water garden air pump
Complete kit including 4 outlet air pump, 4 x air stones and 4 x air lines
Increases oxygen in warm weather and helps to prevent freezing during the winter, reducing the potential build up of toxic gases
Treatments and medications can reduce oxygen levels in your pond
Support your fish with additional aeration and circulation
Ideal for hydroponics or aquaponics
Tech Specs
Contents
Resources
| | |
| --- | --- |
| Sku | 8888 |
| Flow Rate | 169 gal/hr |
| Max Pumping Depth | 5'2" |
| IP Rating | IPX4 |
| Hz | 60Hz |
| | |
| --- | --- |
| Wattage | 8w |
| Voltage | 120V |
| Outlets | 4 |
| Warranty | 2 Years |
| Warnings | WARNING This product can expose you to chemicals including Styrene and Vinyl Chloride, which is known to the State of California to cause cancer. For more information go to www.P65Warnings.ca.gov. |
Four outlet air pump
4 x ball air stones
4 x 16'4" air lines
Pond size calculator