Raised Window Pond Half Moon Mocha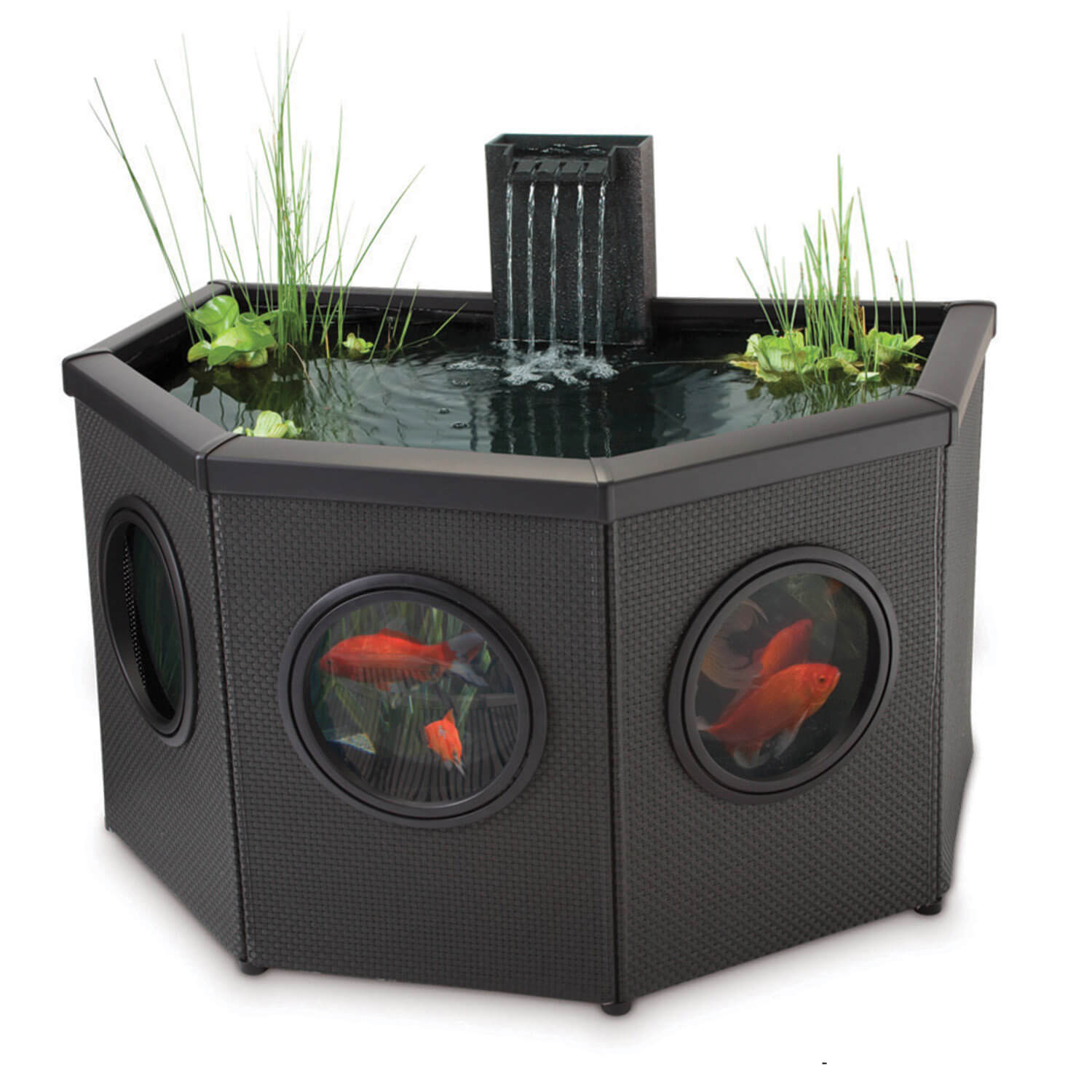 Enjoy the sight and sound of moving water and aquatic life, day and night, all year round.
Stylish and unique raised living water feature Pond introducing a fresh dimension to any garden.
Create your own pond in under an hour, no digging, no hassle The Pennington Aquagarden Raised Window Ponds are designed so that you can easily add a pond to any garden. The Half Moon is a 89 gallon pond perfect for fish and plants. Position anywhere in your garden and appreciate from all sides with three unique viewing windows and beautiful fountains. Enjoy day and night with the built in LED spotlight. With everything you need to get started in one box, it couldn't be simpler. Easy to set up and maintain, suitable for use all year round. Keep fish and plants healthy with the included Inpond 5in1 300 which pumps and filters the Pond. Your Inpond also includes a UV clarifier to prevent green water algae and keep the pond crystal clear.
Complete, easy-to-use Inpond 5-in-1 300 Filtration system included with attractive Waterfall
Clear water guaranteed
Easy to set up and maintain
Everything you need, complete kit, up and running in less than an hour
Great for any garden
Perfect for fish and plants
Designed to sit next to a wall with 3 unique viewing windows at the front
Tech Specs
Contents
Resources
| | |
| --- | --- |
| Sku | 1051613 |
| Actual Product Dimensions Inches HxWxD | 40 1/2" x 28 3/4" x 24" |
| Flow Rate | 190 gal/hr |
| Max Pumping Height | 3'2" |
| | |
| --- | --- |
| Cable Length Mains | 21' |
| Hz | 60Hz |
| Wattage | LED 0.76 Watt |
| Voltage | 120V |
| Warnings | CAUTION: Household indoor and outdoor use. WARNING: To reduce the risk of electric shock, connect only to a properly grounded, grounding-type receptacle. To reduce the risk of electric shock, install only on a circuit protected by a ground fault circuit interrupter (GFCI). DANGER: Ultra Violet Radiation. Do not expose eyes to lamp rays. Disconnect power before servicing or replacing the lamp. READ THE INSTRUCTIONS. |
Textaline Panels
Fibre reinforced liner
Shatter proof windows
Inpond 5 in 1 300 - Pump and filter with green water clarifier and Automatic night time LED Spotlight
Two planting basket
Three fountain displays
Waterfall and fittings
Replacement Polymer wool filter pad
Step-by-step set up guide
Pond size calculator